---
My sheaths for Randall knives are influenced by the Johnson sheaths from the 60's and 70's. Pictured below are a couple of the sheath styles I make for the Randall Models 14 and 18. These are Type C sheaths with stone pockets and holes for paracord lashing. I can make sheaths for most all models of the Randall Knives.
Made from oil tanned harness leather and hand stitched with 4 cord waxed linen thread. Finished with Neatsfoot Oil and a final application of Mink Oil for weather resistance.
No stone is included with the sheath but the stone pocket is formed to take a standard 3" x 7/8" x 3/8" stone. If you need a different size pocket let me know. To order just send email through link at bottom of page. Payment through Paypal, money order or personal check...normally shipped within 3 days of receiving payment.
Custom Leather Sheaths for Randall Knives
Randall Model 14
Price....$65.00 plus $12.50 Priority Shipping with Delivery Confirmation
Randall Model 18
Price....$65.00 plus $12.50 Priority Shipping with Delivery Confirmation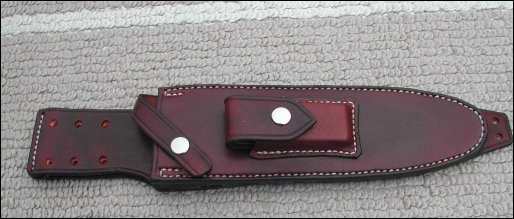 Randall Model 15
Price....$60.00 plus $12.50 Priority Shipping with Delivery Confirmation
email: hvsavage@savagesheaths.com