---
I have made many different sheaths for the long popular Kabar knife, both old WWII versions and the more modern versions. The Kabar is still the knife of choice for many military folks and contractors. I have quite a few of these sheaths being used in the "Sand Box" today.
Made from oil tanned harness leather and hand stitched with 4 cord waxed linen thread. Finished with Neatsfoot Oil and a final application of Mink Oil for weather resistance.
To order just send email through link at bottom of page. Payment through Paypal, money order or personal check...normally shipped within 3 days of receiving payment.
Custom Leather Sheaths for Kabar Knives
Type C Sheath for Standard 7" Kabar
Price...$55.00 Plus $8.50 Priority Shipping with Delivery Confirmation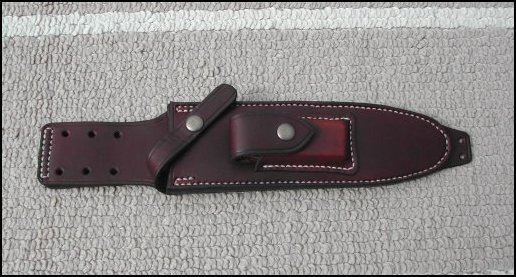 Type A Sheath for Standard 7" Kabar
Price...$55.00 Plus $8.50 Priority Shipping with Delivery Confirmation
Type C Sheath for Short Version Kabar
Price...$55.00 Plus $8.50 Priority Shipping with Delivery Confirmation
email: hvsavage@savagesheaths.com