---
Below is a pic of the sheath I make for the Ek Commando Knife. The same style sheath will fit the Model 5 Bowie and the other models such as the Model 4. The only difference is the cutout for the blade in the welt layer to insure a good, snug fit for the model the sheath is being used for. If you need a sheath for the Model 5 Bowie let me know. The original sheaths used Velco on the straps, which was not a good idea. I use nickel snaps.
Made from oil tanned harness leather and hand stitched with 4 cord waxed linen thread. Finished with Neatsfoot Oil and a final application of Mink Oil for weather resistance.
To order just send email through link at bottom of page. Payment through Paypal, money order or personal check...normally shipped within 3 days of receiving payment.
Custom Leather Sheaths for Ek Knives
Ek Commando Sheath
Price...$55.00 plus $10.00 Priority Shipping with Delivery Confirmation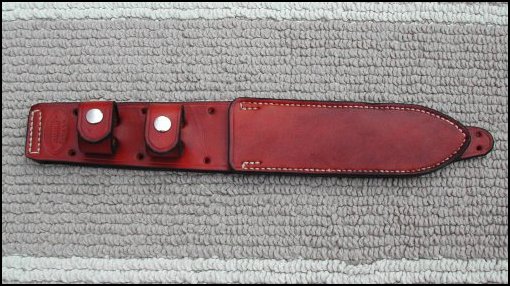 Ek Commando Sheath with Stone Pocket
Price...$65.00 plus $10.00 Priority Shipping with Delivery Confirmation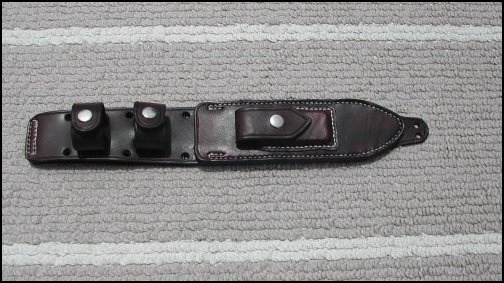 email: hvsavage@savagesheaths.com